Stel dat Nirvana een cover zou spelen van DJ Paul Elstak…Dat vroegen de muzikanten van de nieuwste coversensatie 'House Of Rock' zich af. Muzikanten die hun sporen in het rockcircuit al lang verdiend hebben (o.a. ex-leden van LEFT en The Hot Stewards) bundelen hun krachten om de jaren '90 te laten herleven op een manier zoals je dit nog nooit hebt beleefd.
House classics van DJ Paul Elstak tot Scooter en van SNAP tot 2 Unlimited vliegen in razendsnelle medley's om je oren. Geen keyboards, geen computers, maar keihard ronkende gitaren en een explosieve ritmesectie. Het publiek zal ondersteund door twee sexy zangeressen dit feest der herkenning van begin tot eind meebrullen. In hun eerste jaar als band zetten zij al heel wat feesttenten en festivals op zijn kop, waaronder een stampvolle megatent op Paaspop.

• A ROCK TRIBUTE TO 90's HOUSE •
---
Enkele nummers uit ons razendsnel groeiende repertoire zijn:
Get Ready – 2 Unlimited / Everybody Dance Now – C&C Music Factory / Move On Baby – Cappella / No Good – Prodigy / Rainbow In The Sky – DJ Paul Elstak / The Real Thing – 2 Unlimited / Bro hymn – DJ Paul Elstak/Pennywise / Rhythm Is A Dancer – SNAP / Be My Lover – La Bouche / What Is Love – Haddaway / Twilight Zone – 2 Unlimited / Come Take My Hand – 2 Brothers On The 4th Floor / It's My Life – Dr. Alban / Mr. Vain – Culture Beat / Hardcore Vibes – Dune / Pump Up The Jam – Technotronic / I Like To Move It – Reel 2 Real / Never Alone – 2 Brothers On The 4th Floor / Children Of The Night – Nakatomi / No Limit – 2 Unlimited / Show Me Love – Robin S / Walk On Water – Milk Inc. / Rhythm Of The Night – Corona / Luv You More – DJ Paul Elstak / I'm A Raver – Lipstick / Wonderful Days – Charly Lownoise & Mental Theo / Maria (I Like It Loud) – Scooter / Freed From Desire – Gala / Dreams – 2 Brothers On The 4th Floor…
GUILTY PLEASURES ONLY!
Check hier wat de Godfather zelf vindt van House Of Rock…
THE ALTERNATIVE 90's PARTY:
---
The Alternative 90's Party
is een avondvullend partyconcept dat te boeken is rondom de band House Of Rock. Naast de band is er op deze avond een 90's rock DJ, een 90's VJ, een presswall met polaroid fotograaf,
90's hosts/entertainers
, give-aways, confettikanonnen, strandballen, supersoakers, luchtgitaren en nog veel meer 90's gekkigheid. Klik
hier
voor meer info over
The Alternative 90's Party
.
GALLERY:
---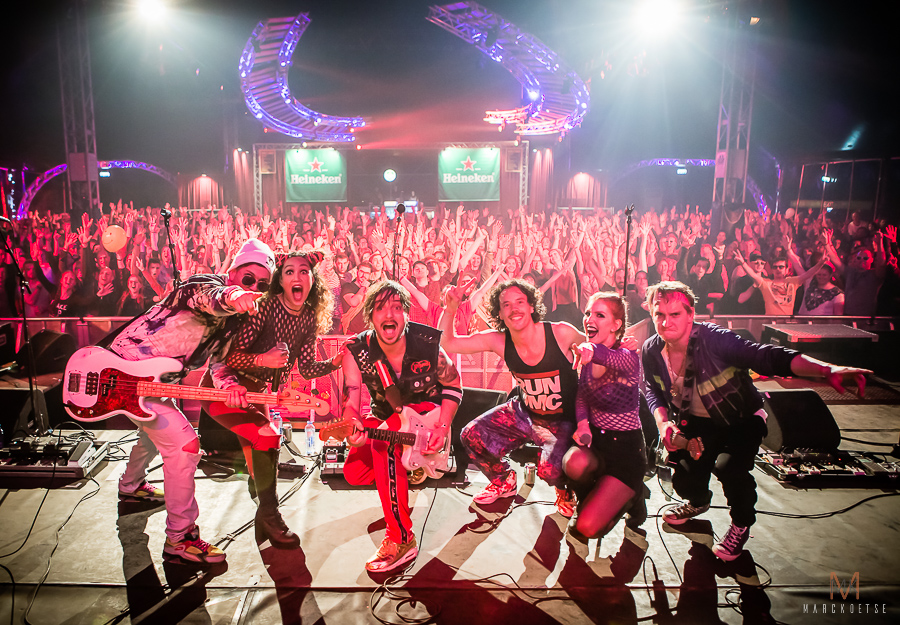 "House Of Rock" live @ Paaspop 2016, Schijndel. Fotograaf: Marc Koetse
"House Of Rock" live @ Effenaar (Grote Zaal), Eindhoven. Fotograaf: Patrick Spruytenburg
CONTACT:
---
info@houseofrock.nl
Frits Robben: 06-20480294
Bart van Oeffelen: 06-41456935
DOWNLOADS:
---
Technische rider
Promofoto (hoge resolutie)
Logo (vector PDF)
Logo (transparant PNG)
WE ARE YOUR FRIENDS!
---

---
LOGIN (band only!)